August 14, 2022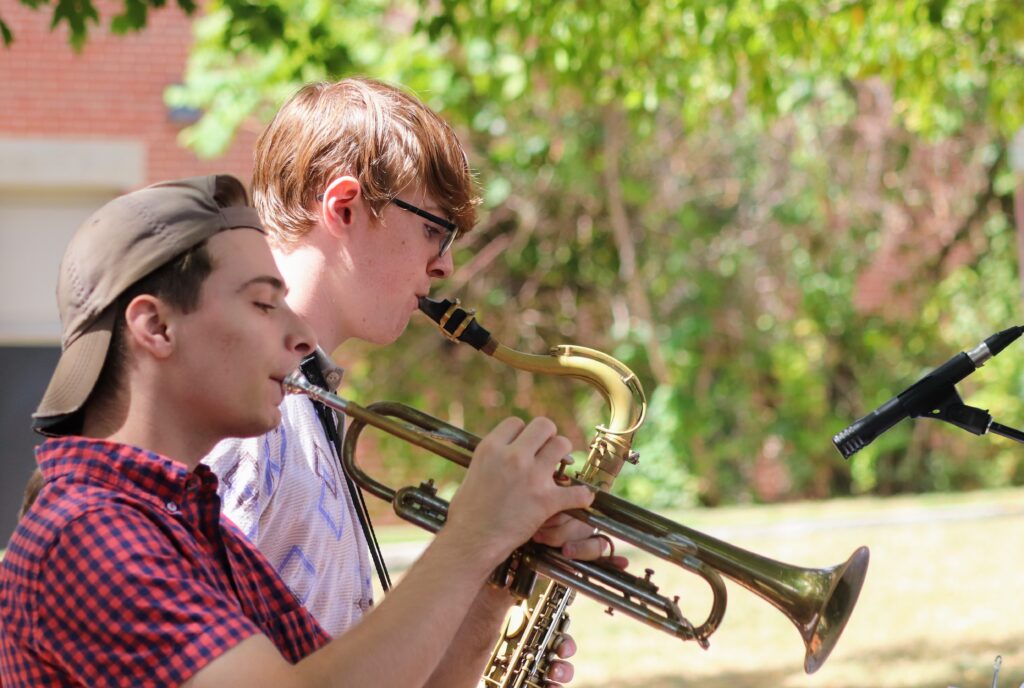 We raised $1,100 from our concert and dance celebration, entitled Azizanga 2022, to benefit Bridges To Malawi. Azizanga means "my friends" in Chichewa (the language of the people of Malawi). This special event featured live music from Sunny Side Up! It was held in front of the Town Hall in Hudson, MA, with a live broadcast at K2 TASO in Kasunga District, Malawi, Africa!
Our friends in Malawi are still in need of help as the rainy season approaches and they are currently dealing with a cholera outbreak. Please consider making a donation.
October 30, 2021
In October we danced for Helping Hands Grateful Hearts and raised a whopping $1,548! Helping Hands Grateful Hearts brings a small team of volunteers to Guatemala every year to work alongside Guatemalans to build homes. We truly believe that these kinds of international partnerships can change the world. We would like to thank you from the bottom of our hearts for celebrating this important work with us.
And not only did we dance, but we learned all about the US holiday of Halloween and the Guatemalan holiday El Día de Todos los Santos (All Saints Day), and we had a special performance by the Miami based Sunny Side Up band! It was a truly spectacular event.
You can find their website here: https://helpinghandsgratefulhearts.org/
Here is a summary of the work they do:
August 7, 2021
In August we danced for Greater Boston Legal Services, Inc. and raised $360! Every day, GBLS attorneys and paralegals provide critical legal advice and representation to low-income individuals. In addition, thousands of other poor families and individuals benefit from the systemic advocacy GBLS carries out on behalf of its clients.
Despite all GBLS' extraordinary work, it is not enough. Every day, three our of five clients with legitimate claims are turned away due to a lack of staffing resources. These people, with meritorious legal claims, have nowhere else to turn to seek justice. GBLS, and those they serve, need our support. Many thanks to all who joined us to celebrate all that GBLS has acheived, and those who donated to help them do more!
June 5, 2021
In June we danced for the Treehouse Foundation and raised $225, enough for 9 suitcases for Massachusetts kids in foster care!
Every day, in child welfare offices across America, girls and boys living in foster care wait to find out where they will go next. Their belongings sit next to them on the floor… in garbage bags.
The Treehouse Foundation's Suitcase Project Help's restore their hope and dignity! They provide children and youth with a brand new suitcase or duffle bag to replace their garbage bags. This sends them a message:
You deserve to be treated with respect.
You are a valued member of our community.
Even if we can't be foster or adoptive parents, we want to help.
Treehouse promotes public investment in our most vulnerable children. They inspire, implement and support innovative child welfare practices to ensure children who experience foster care find forever families and supportive communities, empowering them to lead fulfilling, productive lives.
https://www.treehousefoundation.net
May 8, 2021
In May we danced for, and with, Youth and Family Enrichment Services, Inc. (YoFES), and raised $675! The best parts of the night were:
Dancing to Haitian song requests from YoSEF. What great music for dancing!
Finding out about how much our donations would do to support young Haitian immigrants in the Boston area.
The mission of YoFES is to educate, inspire, and empower members of at-risk, immigrant communities in Boston. YoFES is committed to providing children, families, and adult individuals with the necessary tools to lead successful, healthy, and fulfilling lives in the face of poverty, social and racial inequity, and cultural transitions.
April 10, 2021
The party may be over, but you can still donate to the LGBT Asylum Task Force!
In April, we raised over $500 for the LGBT Asylum Task Force, an organization that provides comprehensive support in housing, food, and connection to legal, medical, and mental resources during the vital time that asylum seekers arrive in this country, but are not allowed to work. We were also excited to work with the Berlin Social Justice Network to throw our best dance party yet, and we'll be working with them more in the months to come!
March 6, 2021
We had at least 25 people, mostly from the U.S. and U.K. Fundraising numbers forthcoming. Funds raised through our second party were in support of these organizations:
February 6, 2021
Our 1st ever International Dance Celebration was held in February, we had over 20 people from two countries and we raised $737 for Refugees International!