We dance five days a week in person and on Zoom! Wednesdays and Fridays at 8am, E.T. and Mondays at 12pm, US Eastern Time. If you join our mailing list by filling out the form below, you will get occasional updates and be notified of any cancellations.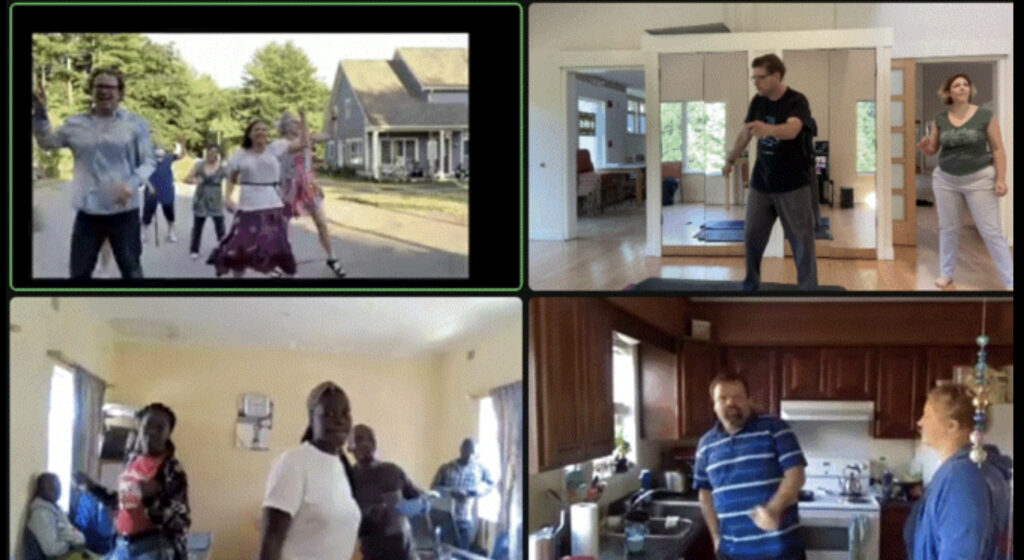 You do what?!
We dance for 40 minutes in person and on Zoom!
You can arrive and leave whenever you like, and come to as many or as few sessions as you like.
They are completely free. There are no ads. There is no agenda other than having fun and moving around.
When you join, you'll hear the music, but everyone is muted. Sometimes there's sporadic conversations in the Zoom chat.
You can choose to turn on your camera if you wish, but you don't have to.
I usually choose the music but sometimes we have guest DJs. Anyone who joins is welcome to DJ! The music is intended to appeal to everyone. We try to keep it within "PG-13" film standard for any kids who might join.
Everyone who joins super friendly and supportive and we expect the same from you. It is not required that you dance well, or even that you dance at all, some people join from the road or while they do their dishes.
If you sign up, you'll be on our email list, you'll get the connection info and occasional emails about upcoming events (all free). You'll also get an email any time we need to cancel.
Want to know what we dance to? Check out some of our recent playlists.
| | | | |
| --- | --- | --- | --- |
| | Mon | Wed | Fri |
| Boston (EDT) | 12:00 | 08:00 | 08:00 |
| GMT | 17:00 | 13:00 | 13:00 |
| Lilongwe/Oslo | 18:00 | 14:00 | 14:00 |
| Los Angeles | 9:00 | 5:00 | 5:00 |
| | Tue | Wed | Fri |
| Hong Kong | 00:00 | 20:00 | 20:00 |
| Sydney | 02:00 | 22:00 | 22:00 |
Weekday dance party times